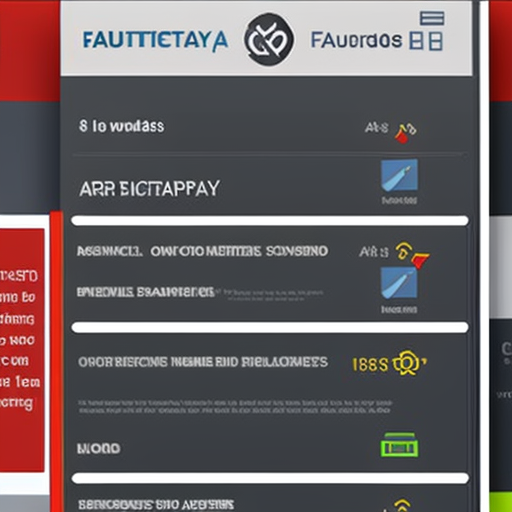 30 Aug

Faucetpay Faucet User Guide

FaucetPay is a digital payment platform that allows users to earn, store, and spend cryptocurrencies. The FaucetPay faucet user guide will explain how to create an account, use the platform to make purchases and transfers, and earn money with FaucetPay. It will also provide tips and tricks for maximizing your earnings, as well as resources for further information. Additionally, the article includes a glossary of terms used throughout the guide that will help readers understand its content better.
What is FaucetPay?
FaucetPay is a payment system that provides users with a convenient and secure way to manage their finances. It enables users to make payments in cryptocurrency, with the option of paying in traditional currency as well. FaucetPay offers multiple benefits for users who choose to pay with cryptocurrency, such as lower transaction fees, faster processing times, and more anonymity. Additionally, the system allows users to explore various payment options available on the platform. This makes it easier for them to select the best method of payment depending on their individual needs. With its wide range of features and services, FaucetPay provides an easy-to-use platform for everyone looking for a reliable payment service provider. As such, it has become increasingly popular among those interested in making online transactions securely and quickly. Transitioning into the next section, understanding how to create an account is key for successful user experience with FaucetPay.
Creating an Account
Creating an account with FaucetPay is a relatively straightforward process. The Sign-up Process involves providing basic personal information and creating an Account Password. Verifying your account requires validating an email address or telephone number. To further secure your account, it is recommended that users set up Two-Factor Authentication using either Google Authenticator or Authy.
Account Sign-up Process
Singing up for a FaucetPay account is an easy and straightforward process that can be completed in a matter of minutes. To begin, users will need to provide their email address, username, password, and enter the captcha code. After completing this step, the user's account is created and they can access it by logging into faucetpay.io with their chosen credentials. The following are four additional steps that must be taken after account creation:
Tracking payments: Users must add an external wallet address to track incoming payments from faucets. This ensures that all incoming payments are credited to the correct wallet address and helps keep track of payment history more efficiently.
Verifying identity: For added security measures, users will need to verify their identity in order to increase the payment limit on their accounts and unlock full features such as withdrawing funds directly from FaucetPay or using multiple currencies for payments/withdrawals.
Adding payment methods: Once logged in, users have the option of adding one or more payment methods such as PayPal or bank transfers so they can receive payouts more quickly and securely from faucets without having to manually withdraw funds from FaucetPay each time they receive a payment from a faucet.
Managing settings: Lastly, users should take time familiarize themselves with the settings on their accounts including setting up two-factor authentication (2FA) for added security and personalizing notifications so they know when new payments arrive in their wallets or when they reach certain thresholds on withdrawal limits set by FaucetPay policies .
With this information at hand, users are now ready to begin verifying their accounts for increased security measures and maximum benefit of all available features offered by FaucetPay platform
Verifying Your Account
Verifying one's identity is an important step in securing access to the full range of features provided by FaucetPay. Account verification requires users to provide two forms of documentation, such as a driver's license or passport and proof of address. This process helps ensure that all parties are in compliance with applicable laws and regulations. Additionally, it ensures that only legitimate users can access the platform and services.
Once account verification is complete, users must set up two-factor authentication for an added layer of security. Two-factor authentication requires users to use a code sent through text message or email in addition to their password when signing into their accounts. This additional security measure helps protect user data from unauthorized access and keeps the system secure from malicious actors.
Setting Up Two-Factor Authentication
Establishing two-factor authentication is an important part of securing one's account, as a recent study found that over 90% of user accounts with two-factor authentication were not breached. The primary benefits of using two-factor authentication include:
Increased protection against unauthorized access to accounts
Elimination of the need to remember multiple passwords
Improved tracking and monitoring of user activity
Reduced risk of financial loss due to fraud or data breaches
Ability to control access to sensitive information.
At the same time, it is important for users to consider potential risks associated with two-factor authentication such as phishing attempts, social engineering attacks, malware infections, and other cyber threats. With these precautions in place, users can then move on to exploring how FaucetPay can be used for their various payment needs.
Using FaucetPay
Utilizing FaucetPay provides users with a secure and easy method to receive cryptocurrency rewards. With low fees and an easy setup, users can quickly begin receiving payments in Bitcoin, Ethereum, Litecoin, and DogeCoin. FaucetPay also offers features such as wallet services, account information updates, payment history tracking and more. All of these features make it easier for users to manage their account securely while earning money through cryptocurrency faucets. By using FaucetPay, users can have peace of mind when it comes to their digital assets.
In addition to being a secure payment processor for cryptocurrency faucets, Faucepay also provides the opportunity for users to earn extra money by completing surveys and offers or by referring friends and family members via its referral program. Through these methods, users can easily increase their earnings through FaucetPay's intuitive platform. Furthermore, there are no minimum withdrawal requirements so that user funds are immediately available after meeting the required withdrawal amount of $8 USD or equivalent in cryptocurrencies like Bitcoin or Ethereum. As such, utilizing FaucetPay is an efficient way to manage digital funds while maximizing earning potentials from online faucets.
Earning Money with FaucetPay
FaucetPay is a popular payment platform that allows users to earn money by completing tasks, referring friends, and taking surveys. The platform provides numerous opportunities for users to make money online in an efficient manner. FaucetPay also offers attractive bonus rewards when users refer other people to the platform. Through these methods, users can accumulate profits using FaucetPay while enjoying a convenient and secure experience.
Completing Tasks
Completing tasks on FaucetPay is a straightforward process that requires minimal effort. There are three main categories of tasks available for users to engage in: in-app rewards, task optimization and referring friends.
In-app rewards involve completing activities within the FaucetPay app such as viewing ads or playing games. The payouts associated with these types of tasks can vary significantly depending on the activity being completed, with some offering higher payouts than others.
Task optimization involves completing surveys or other activities which help FaucetPay optimize its services. These can be anything from answering questions about a product to testing new features of the platform. Although these tasks may not typically offer large payouts, they can still be beneficial for those looking to increase their earnings over time.
Referring friends is another way users can earn money on FaucetPay. By referring friends to use the platform, users will receive a commission based off of their referrals' earning potentials. This type of task offers an excellent opportunity for users to maximize their earnings while helping their friends make money too.
Overall, completing tasks on FaucetPay offers users plenty of ways to earn extra income while also helping improve the services offered by the platform itself. By taking advantage of all the various task options available, users can quickly and easily start making more money with just a few clicks of a button. With this in mind, referring friends is an excellent way for users to further boost their earnings potentials while also sharing the benefits of using FaucetPay with others around them.
Referring Friends
Referring friends to FaucetPay offers users the potential to significantly boost their earnings through commission-based rewards. Users can refer friends via a unique referral link that they can share on social media platforms such as Twitter, Facebook, and Instagram. Each person that signs up for FaucetPay using the user's referral link will earn them commission-based rewards when those referred make transactions. This method of referral rewards allows users to maximize their earning potential with minimal effort. Furthermore, these rewards are cumulative, meaning that the more people referred, the higher the reward accumulated over time. The transition into taking surveys is simple; users must simply complete all tasks available within each category in order to maximize their earnings.
Taking Surveys
In addition to referring friends for Faucetpay rewards, users can also take surveys as a way to earn money. Surveys are offered by third-party companies and can help users:
Earn larger payouts than referral bonuses
Learn more about the products they use
Receive gift cards or prizes in addition to payouts
Taking surveys can be an easy way for Faucetpay users to quickly earn rewards. Rewards vary based on the survey type but typically range from small amounts of cryptocurrency up to gift cards. Many surveys offer free samples of product and services in exchange for user feedback, making it a great way to test out new products and services without spending any money. Now that you know how easy it is to start earning with Faucetpay, let's look at some tips and tricks for maximizing your rewards!
Tips and Tricks
By applying the tips and tricks outlined, users can maximize their rewards on Faucetpay. Time management is an important factor in earning strategies, as users who are able to complete surveys quickly have more time to participate in more surveys. This also applies to completing tasks such as captcha entries and viewing ads, which should be done efficiently for maximum rewards. Additionally, it's important to take advantage of any bonus points available when completing surveys or other tasks. Bonuses can vary from survey to survey or task to task and can greatly increase earnings. It's essential that users read all instructions carefully before beginning a task so they don't miss out on valuable bonuses.
With these tips in mind, users can get the most out of their time spent using Faucetpay. Having a keen eye for detail coupled with efficient completion of tasks will ensure that users are maximizing their rewards and earning potential on the platform. As such, transitioning into security measures taken by Faucetpay is essential for ensuring user safety when participating in reward opportunities online.
FaucetPay Security
Faucetpay offers users a secure environment for participating in online reward opportunities through its comprehensive security measures. To ensure the protection of user accounts, FaucetPay has employed the following safeguards:
All account passwords are securely encrypted and stored using industry-standard hashing algorithms.
Two-factor authentication is available to add an extra layer of security for logging into an account.
The system regularly checks for suspicious activity on all accounts to prevent fraud and unauthorized access attempts.
All sensitive information such as emails, addresses, usernames, etc., is securely stored and never shared with third parties without explicit permission from the user.
These features help make FaucetPay one of the most secure systems available for online rewards programs while still providing easy access to users' account details when needed. As a result, users can be confident that their data will remain safe and secure while they take advantage of these rewarding opportunities with FaucetPay. In addition to these security measures, FaucetPay also provides customer support if any issues arise with their services or accounts.
FaucetPay Support
Offering comprehensive customer support, FaucetPay ensures users have help and assistance available to address any issues related to their accounts. Users can quickly get in touch with the FaucetPay team via email or social media channels such as Twitter, Facebook, and Telegram. The team is available 24/7 for inquiries and provides detailed information about payouts, withdrawal limits, account security features and more. Additionally, they respond promptly to all queries and inquiries ensuring that customers have a positive experience when using FaucetPay. To ensure the highest level of protection for user's funds, the platform makes use of advanced encryption technology combined with regular security audits. This allows them to guarantee complete safety for all users on the platform. With this strong support system in place, users can rest assured knowing that their funds are secure when using FaucetPay services. Transitioning into the next section, it's clear that there are many advantages associated with using FaucetPay services.
Advantages of Using FaucetPay
Utilizing FaucetPay services provides an array of advantages for those seeking secure and efficient payment solutions. One major benefit is that all transfers made through the service are free, meaning users can make a transfer to a recipient without incurring any hidden or additional fees. Furthermore, FaucetPay offers low withdrawal limits which allows users to access their funds more quickly than with other payment services. This makes it an ideal option for those who may need quick and easy access to their funds. In addition, FaucetPay offers user-friendly customer support options so users can get help whenever they need it.
The platform also has robust security protocols in place to ensure that all transactions are kept safe from potential threats or frauds. All data sent over the platform is encrypted and stored securely on the servers, ensuring that customers' information remains private. Moreover, the platform regularly performs safety audits and updates its system to stay ahead of any potential vulnerabilities or emerging threats. As such, using FaucetPay provides users with confidence knowing their payments are being handled securely and efficiently.
Disadvantages of Using FaucetPay
Despite its many advantages, FaucetPay also has some potential drawbacks to consider. The most significant disadvantage of using FaucetPay is the payment fees associated with transactions on the platform. For example, when withdrawing funds, FaucetPay charges a fee of 0.0003BTC in addition to any applicable network fees. This fee can be quite steep for users who are making small withdrawals or are working with limited funds. Furthermore, there may also be withdrawal limits imposed by the exchanges and services that are connected to FaucetPay accounts that users must keep in mind when transferring cryptocurrency from their wallet.
Although these potential drawbacks should not be overlooked, they may still not outweigh the numerous benefits of using FaucetPay as an efficient payment method for crypto transactions. Consequently, it may be wise for users to explore alternative options before settling on this particular platform.
FaucetPay Alternatives
Exploring alternative platforms for cryptocurrency transactions can ensure efficient and cost-effective payments. FaucetPay is one of the most popular payment platforms, but there are other options available depending on your needs. Many users prefer to use Coinbase as it offers lower fees than FaucetPay, and allows for larger withdrawal limits. Other platforms such as Binance and BitPay also offer competitive rates, with no minimum withdrawal limit requirements. Overall, these alternatives provide a viable option for those looking to minimize transaction fees while still being able to access their funds in a secure manner. The choice should be made based on each user's individual needs and preferences; however, taking the time to compare different platforms can help ensure that the best solution is found. Transitioning from this exploration of FaucetPay alternatives to explore potential resources will help users make an informed decision about which platform works best for them.
Resources
The discussion about FaucetPay alternatives has been completed and now it is time to look at some resources available for users. One of the most popular activities for earning on FaucetPay is through paid surveys. These surveys are conducted by third-party companies and they allow users to earn rewards in exchange for completing a survey. The payment types available vary depending on the company that is conducting the survey, however common payment options include cryptocurrencies such as Bitcoin, Ethereum, Litecoin or other digital currencies like Dogecoin or Dash. Additionally, some companies offer gift cards as well as PayPal payments for completed surveys.
Furthermore, there are other tasks available such as participating in online games and watching videos which can also be used to earn rewards. As with all activities related to financial transactions, it is important to be aware of the risks associated with these activities and ensure that one does not become a victim of fraudsters who take advantage of unsuspecting users. With this in mind, it is essential to use trusted websites when engaging with any type of financial activity online. It is also highly recommended to read up on different types of scams before engaging with any type of online activity that involves money or cryptocurrencies in order to stay safe and secure while using FaucetPay services. In conclusion, these resources provide an opportunity for users to supplement their income while taking advantage of the convenience offered by FaucetPay's services. Transitioning into the next section will discuss a glossary of terms relevant when using FaucetPay services.
Glossary of Terms
Gaining an understanding of the terms related to using FaucetPay services can help users maximize their earning potential. Many of these terms are related to faucet sites, which are websites that offer small amounts of cryptocurrency for completing tasks, such as viewing ads or taking surveys. Other relevant terms refer to FaucetPay benefits, such as its low minimum withdrawal amount and its wide range of accepted cryptocurrencies. Additionally, it is important for users to understand strategies for maximizing their earnings from faucets, including timing their visits strategically and keeping track of multiple accounts. By familiarizing themselves with terms associated with FaucetPay services and faucet sites, users can further increase their earnings by utilizing various strategies. With this knowledge in hand, users will be well-equipped to take advantage of all the FaucetPay benefits available.
Having a clear grasp on these topics is essential for taking full advantage of all that FaucetPay has to offer. To continue exploring the subject further, readers should consider looking into additional resources on the topic such as informative blog posts or online tutorials covering more detailed aspects like specific faucet earning strategies.
Further Reading
Further examination of FaucetPay's services and strategies for maximizing faucet earnings can be found in various online resources. To get the most out of FaucetPay, users should consider the following:
Researching the benefits and drawbacks associated with using FaucetPay – such as its security protocols, user fees, payment caps, rewards system, etc.
Learning how to maximize their earnings by exploring different faucets on the platform and taking advantage of bonuses and promotions.
Staying abreast of updates to ensure that they are always up-to-date on any changes or new features that may impact their experience with FaucetPay.
In addition to online resources, there are also a number of books available that provide detailed information about using FaucetPay and maximizing faucet earnings. These books cover topics ranging from best practices for setting up an account to tips for increasing income potential through creative strategies such as referral programs and affiliate marketing opportunities. Reading these books will give users an in-depth look into all aspects of using Faucepay so they can make informed decisions when it comes to making use of this service.
Frequently Asked Questions
How do I withdraw funds from FaucetPay?
Funds can be withdrawn from FaucetPay by selecting a payment method and adhering to the necessary security measures. Withdrawal requests must be authorized, and users should ensure all details are accurate before submitting in order to avoid any potential delays.
Is FaucetPay available in my country?
FaucetPay is available in numerous countries, depending on the payment methods used. There may be fee implications depending on the country of origin, so it is advisable to research these before attempting to use the service.
How long does it take to receive payments from FaucetPay?
Payment speed is paramount when utilizing FaucetPay. Delayed transactions can be disheartening, yet typically payments occur within moments of request submission. Users should expect efficient and expedited receipt of funds with minimal wait times.
Are there any fees for using FaucetPay?
Using FaucetPay does not require any fees, however, funds may be frozen if transactions take more than 24 hours. Therefore, it is important to ensure that all payments are made in a timely manner for a smooth experience.
Is FaucetPay safe to use?
FaucetPay provides various security measures such as two-factor authentication and SSL encryption to ensure secure transactions. Furthermore, their customer support is available 24/7 for any unforeseen issues or queries. As an example, a user was able to quickly recover and reset their account following a hacking attempt due to the prompt response of FaucetPay's customer service team.